By Jamie-Lee Oldfield, Sept 2019 – link to original article
VENTURON Livestock returned to the Royal Adelaide Show for the second year, and it was certainly worth making the trek from Boyup Brook, WA.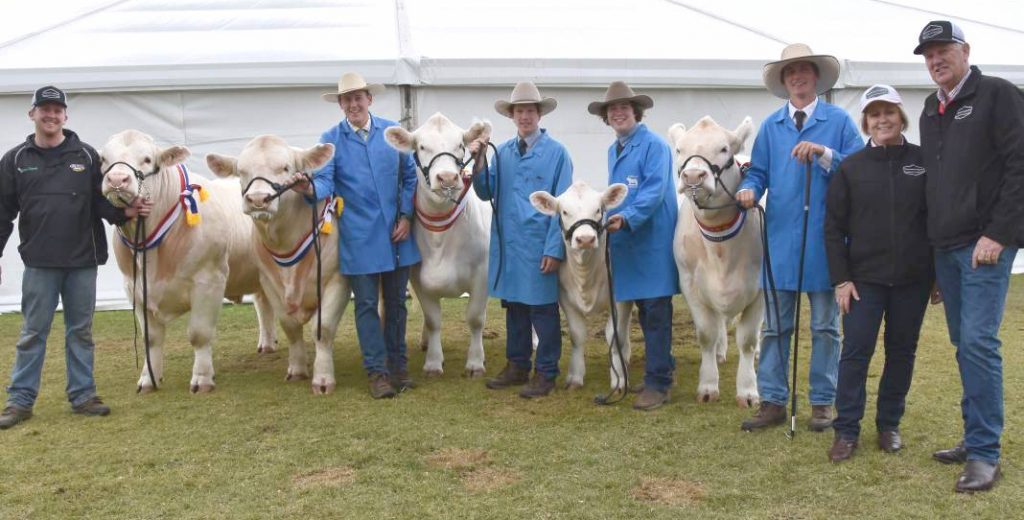 Harris Thompson of Venturon said it was one of their best results yet, and the team would now head to Perth Royal in just three weeks. "It was a great showing of cattle here and you can see how much Charolais have modernised, with their fat cover and ease of calving, they are gaining market share and making in roads back into the industry," Mr Thompson said.
With the Charolais World Congress to be hosted by Australia in August next year, Mr Thompson said they were looking forward to showcasing their genetics to the world – "it's a once in a lifetime opportunity for a lot of people".
Their supreme exhibit cow was previously reserve senior champion Charolais female at the Sydney Royal Show earlier in the year, with the cow that beat her out of champion going on to win interbreed exhibit of the show.
This time around she got the top gong however, helped along by a six month old heifer calve at foot that Mr Thompson said was by SVY Grizzly Pld 521C, a Canadian sire, and that they "had high hopes for".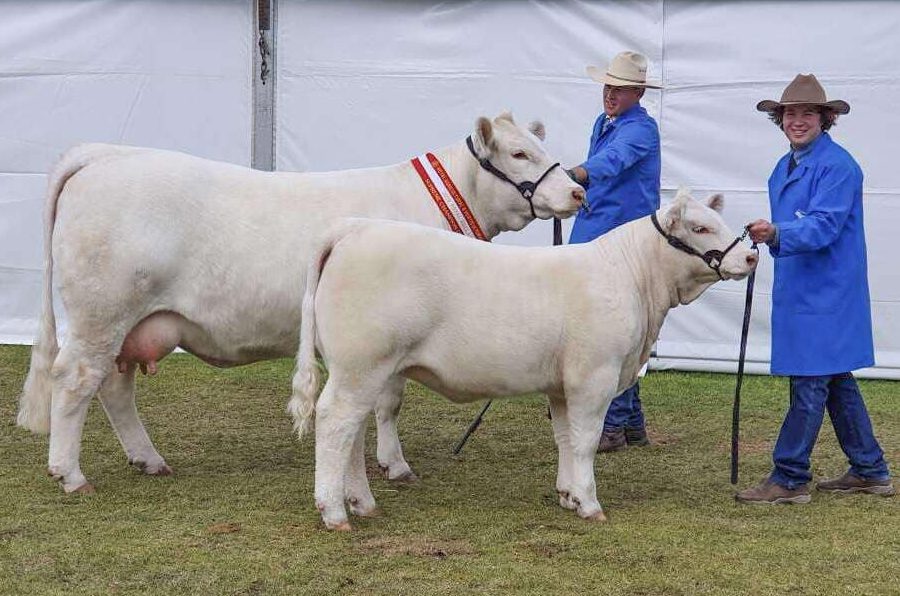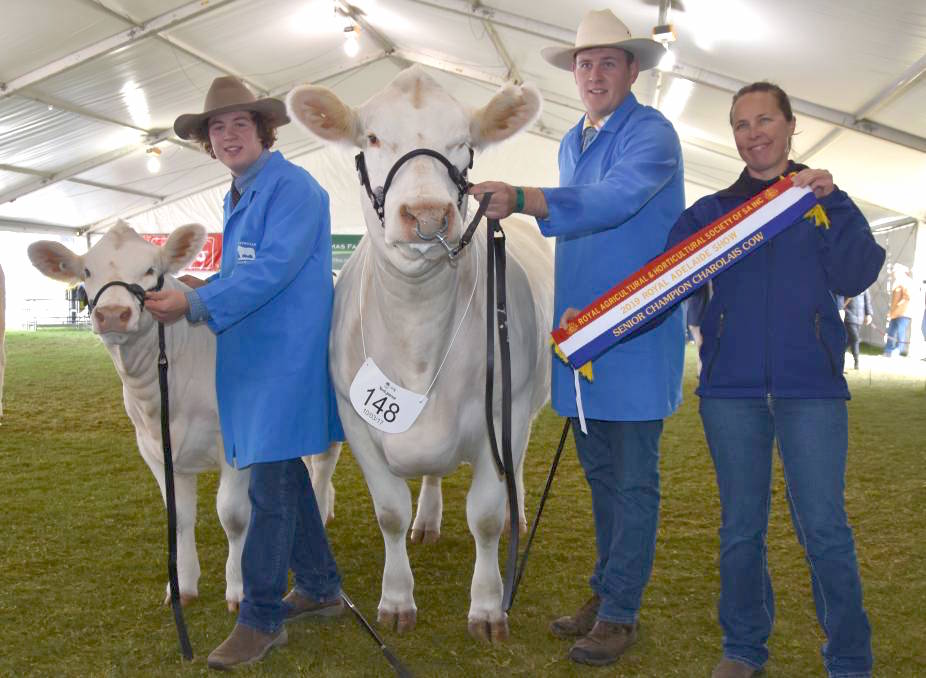 Judge Ryan Bajada from Gippsland, Vic, said the senior champion female had a power of length and depth and moved around on good feet and legs.
"She's a well-made female, with a depth of body producing a power of milk for that calf – proofs in the pudding, that's a wonderful calf with a lot of shape and lot of length, structurally sound and it is just a mirror image of its mum," he said
Junior champion female Venturon Hillary P27 was described by Mr Bajada as "beautifully made".
"She has substance while still maintaining a beautiful front and femininity – she's such a beautifully balanced female," he said.
Junior and grand champion bull Venturon Profitmaker P43 was by Wynns Mann Skaggs 663X, a Canadian bull Venturon own the semen rights to along with Palgrove stud.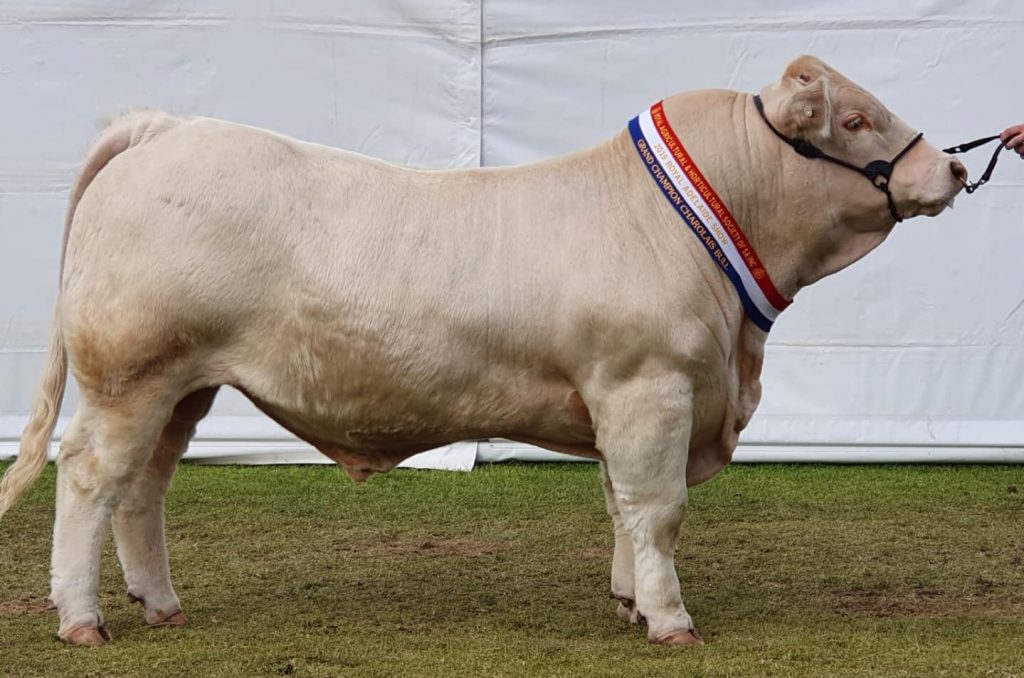 The 17-month old bull weighed 870kg with an eye muscle area of 133 square centimetres and fat scans of 5 and 4.
Mr Bajada said it was a straight forward decision for him picking junior champion bull, with its combination of muscle and fat cover.
"The butt shape and expression of this calf is absolutely wonderful…a very complete bull in my eyes," he said.
The bull will be the star lot in the Venturon sale next year, Mr Thompson said.
James Wilson from Arabar Stud at Mallala exhibited the reserve champion senior female, junior bull and senior bull, while Boulview Charolais from Loxton had the reserve champion junior female.